HKYHA
"Ngong Ping Charity Walk 2019" x
Angry Birds
19/1/2019 – 21/1/2019
Enrollment for overseas participants
Organised by the Hong Kong Youth Hostels Association (HKYHA), the annual charity event "Ngong Ping Charity Walk 2019 (NPCW2019)" will be held on 20th January 2019 (Sunday). The event has come to the 13th year and it is our pleasure to have Angry Birds joining us to be the Event Ambassador, encouraging everyone to enjoy the fascinating nature and make contribution to the charitable event! NPCW2019 will comprise one leisure route and two competition routes, which the three different routes can suit families, beginners and even mountain runners. All the donations raised will be used to support our efforts in promoting environment conservation, youth development and cultural exchange.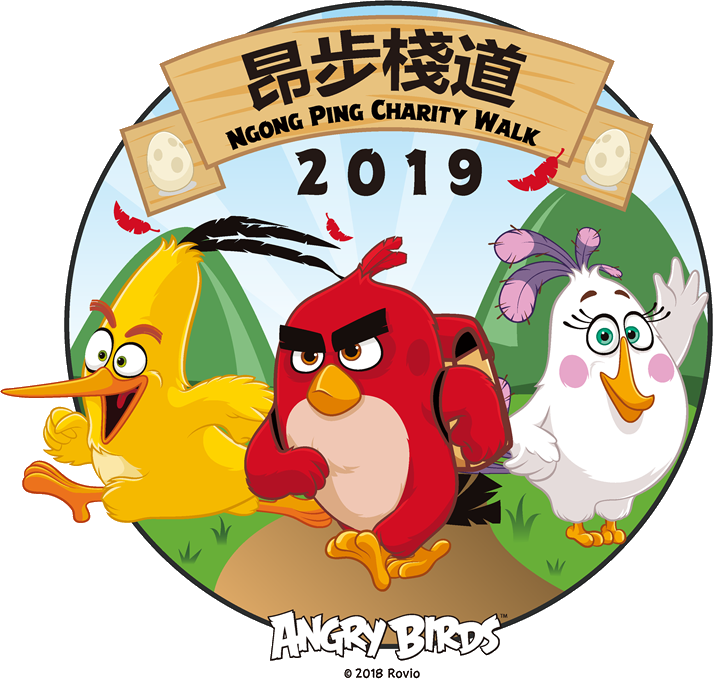 Limited Angry Birds Collection
With Angry Birds being the event ambassador, NPCW2019 will be teemed with various colorful and adorable characters. Photo booth will also be set up at one of the check-points, YHA Ngong Ping SG Davis Youth Hostel, for participants to take selfie with the famous characters such as Red, The Pigs, etc., wishing everyone a healthy and joyful day! All eligible participants of NPCW2019 are entitled to an Angry Birds Walker's Pack specifically designed for the event. The walker's pack includes a drawstring bag, an event t-shirt, number bib, keychain and other surprising gifts from other sponsored brands. What's more, a limited version of finisher's medal will be waiting for the attended participants at the finish point!
3 routes to go, new facet of Lantau to see
"Ngong Ping Charity Walk 2019" comprises 3 different routes for participant's choice, of which one is a leisure route and the other two are for competition.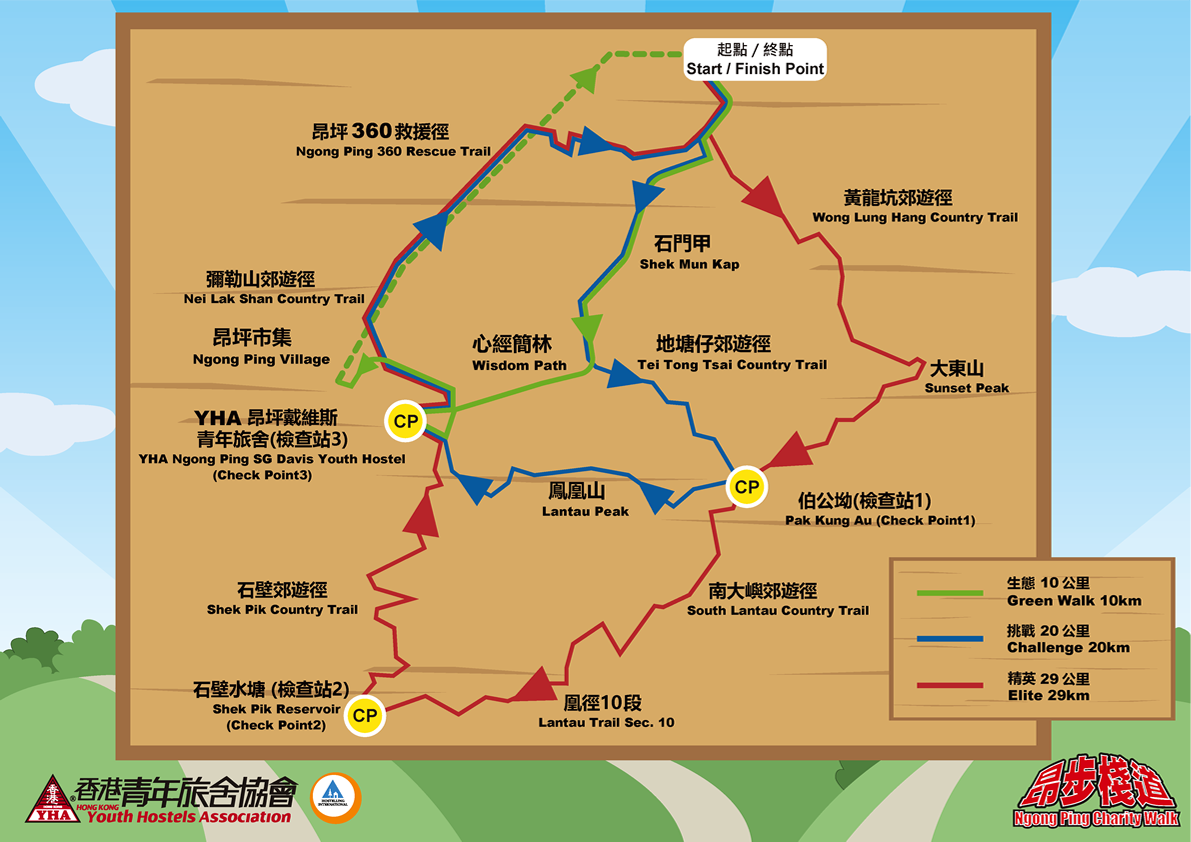 Green Walk 10km
Green Walk 10km is a leisure route which allows participants to observe ecological environment in Lantau Island, enjoying a weekend getaway from the hustle and bustle of a hectic urban life. Starting from Citygate Outlets, participants will pass through Wisdom Path and Ngong Ping Village. Families with small children and beginners are welcome, as participants will take the free single trip Ngong Ping 360 cable car back to Tung Chung and the total routes will take around 4 hours.
Mountain Runners Alert!! Extensive Test of Physical Strength!
The two competition routes, "Challenge 20km" and "Elite 29km" are designed by expert, are definitely an extensive test for all mountain runners! Challenge 20km is a shorter route, which runners will conquer the 2nd highest hill in the city, Lantau Peak. Elite 29km is the longest route ever, requiring runners to complete Wong Lung Hang Country Trail, Shek Pik Country Trail and Nei Lak Shan Country Trail in 8 hours.
Overseas Participants enrollment starts NOW!
With the high popularity in local participants, the organizer decided to reserve certain places for the overseas nature lovers and hikers. We also arranged accommodation in the YHA Mei Ho House Youth Hostel, coach service on the day of the Walk and half day Sai Kung Geopark tour. Don't miss the chance and enroll NOW!
Itinerary:
19/1/2019 (Saturday): Welcome Night
Check in the hostel, distribute Walker's Pack and introducing Sham Shui Po District and "Ngong Ping Charity Walk"
| | | | |
| --- | --- | --- | --- |
| Breakfast | Lunch | Dinner | Accommodation |
| – | – | – | YHA Mei Ho House Youth Hostel |
YHA Mei Ho House Youth Hostel
Mei Ho House is the only surviving Mark I H-shaped resettlement block in Hong Kong and the first design for public housing of the same category. The optimal structural design and construction as well as minimum approach to detailing reflected the objective to provide minimum living standards for the Shek Kip Mei Fire victims within the shortest time. The launch of the Hong Kong public housing programme, with the completion of Shek Kip Mei Resettlement Blocks, has create tremendous impacts on society, livelihood, economy and education. The everyday life and pursuits of the people evolved around this unique spatial morphology, had turn bred a close bond among the households.
20/1/2019 (Sunday): Ngong Ping Charity Walk 2019 > Free Time
Transfer to Tung Chung starting point by coach, breakfast on the coach. Free time in Tung Chung after the Walk.
| | | | |
| --- | --- | --- | --- |
| Breakfast | Lunch | Dinner | Accommodation |
| Hostel Breakfast | – | – | YHA Mei Ho House Youth Hostel |
21/1/2019 (Monday): Sai Kung Geopark Half Day Tour
Transfer to Sai Kung by coach, visit the HK UNESCO Geopark and the hexagonal volcanic columns and dismiss for free time at Sai Kung or Sha Tin MTR Station.
| | | | |
| --- | --- | --- | --- |
| Breakfast | Lunch | Dinner | Accommodation |
| Hostel Breakfast | – | – | – |
High Island Reservoir-East Dam
High Island Reservoir is one of Hong Kong's most popular geological sites with the wonderful volcanic rock, which composes of giant polygonal joint columns. Amongst these the Hexagonal Volcanic Rock Columns are the most typical Geo Wonders and rarely found in the world.
Fee
Green Walk (10km): HK$1,660/ pax (includes minimum donation)
Elite/Challenge (20/29km): HK$1,960/ pax (includes minimum donation)
Fee includes:
◆ Dormitory bed of 8-bedded room at YHA Mei Ho House Youth Hostel
◆ Two breakfast
◆ Sai Kung half day tour
◆ Insurance of $100,000 for accidental death and disablement.
◆ Enrollment fee and minimum donation for Ngong Ping Charity Walk 2019.
Fee not includes:
◆ Visa application, personal expenses and public transportation fee and other surcharges
◆ Extra-costs caused by traffic delay, strike , bad weather or any other uncontrollable reasons.
Enrollment method
◆ Please enroll by filling the Enrollment form.
◆ Upon receiving the enrollment form, we will email the participants for payment notice.
◆ Upon receiving the payment, we will email confirmation to the participants.
Deadline
11:59 p.m. 19 November 2018. Since there are limited quotas, please enroll as soon as possible.
Enquiry
Eco Travel Limited (License no.: 353452) would be the sole service provider for the overseas participants of the "Ngong Ping Charity Walk 2019". For further enquiries and enrollment, please feel free to contact us
Contact person: Ms. Daisy Fu
Tel. No.: +852 3105 0767
Email: daisyfu@ecotravel.hk
WeChat: ecotravelhk
About "Ngong Ping Charity Walk" (NPCW)
HKYHA has been organising Ngong Ping Charity Walk (NPCW) since 2007. In addition to allowing participants to appreciate the beautiful natural scenery of Lantau Island, the Event also encourages environmental protection and raises funds for HKYHA to support its missions
– to provide young people with budgeted accommodation as multicultural platforms to explore the world.
About Hong Kong Youth Hostels Association (HKYHA)
Established in 1973, the Hong Kong Youth Hostels Association (HKYHA) is a non-profit organisation with no political or religious background, and is governed by an Executive Committee made up of individuals from all walks of Hong Kong society. HKYHA is a member of the International Youth Hostel Federation, joining forces with around 90 member countries and regions.
About Eco Travel Limited
Established in 2010 and aim at providing high quality Eco-tour for global tourists. We organize our tour with low impact to the environment, and through our professional interpretations, tourists would understand, enjoy and experience the nature and culture of Hong Kong. Our team wishes to promote sustainable development, community culture inheritance and nature preservation, which in turn provide an extra-ordinary experience to the tourists.
Overseas Participants Enrollment Form
| | | |
| --- | --- | --- |
| Organiser : | Organiser for overseas participants: | |
| | | |